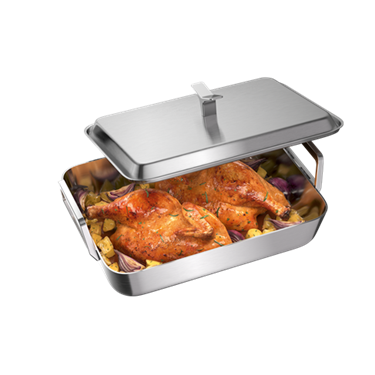 Roasting Dish with Lid
Mastery Collection Roasting Dish with Lid
Perfectly even cooking
The special multi-layer material optimised for AEG induction hobs ensure heat is spread evenly across the entire cookware surface.
Perfect Cover
The stainless steel covers on the AEG Gourmet Collection create a seal on the pot, preventing evaporation of natural moisture from ingredients.
Dishwasher safe
The AEG Gourmet Collection can be safely washed in your dishwasher.
Oven safe
The AEG Gourmet Collection cookware can be used in an oven up to 250 degrees celcius.
Key features list
Suitable for all types of hobs
Steel lid that prevents evaporation of natural moisture maximising flavour
5 ply multi-layered construction
Brushed finished interior and exterior
Specifications
Key Specification
Accessory Other Features:
Quick & easy installation
Material:
Stainless Steel
DIMENSIONS
Total height (mm)

392

Total width (mm)

291

Total depth (mm)

78
Reviews
Thank you Maddie at Harvey Norman Rothwell for suggesting to go AEG on all your appliances Loving the ComforLift and the program light on the floor, no more opening the door
Thank you for submitting a review! Your review is being moderated and may take up to a few days to appear.
Your review was submitted!
Register
Register your appliance today to stay updated on exclusive offers, services and safety notices.
FAQs
Our Frequently Asked Questions are here to help you know all you need to about the use, maintenance and care of your AEG appliances.
Support
Having trouble with your appliance? Looking for a manual? Head to our support page we are here to help.