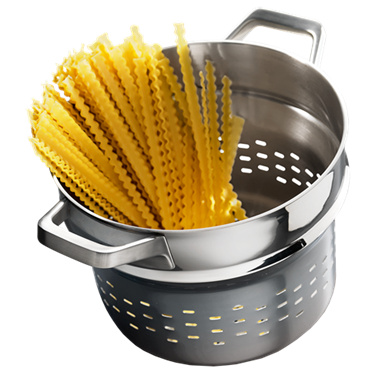 AEG Gourmet Collection Pasta Insert
The AEG Gourmet Collection Pasta Insert makes cooking pasta a pleasure. Ideal for cooking long rigid pasta such as spaghetti, linguine and fettuccine; the Pasta Insert protects delicate pasta from tearing. Simply lift the Pasta Insert to drain the pasta. This allows you to cook the perfect al dente pasta every time.
Perfectly even cooking
The special multi-layer material optimised for AEG induction hobs ensure heat is spread evenly across the entire cookware surface.
Developed for various cooking needs
Our professional accessories are developed to complement your cooking and produce a variety of perfect dishes.
Performance and design
Premium design and performance optimised to enhance your cooking. The AEG Gourmet Collection integrates perfectly with any AEG cooktop and induction hobs.
Oven safe
The AEG Gourmet Collection cookware can be used in an oven up to 250 degrees celcius.
Dishwasher safe
The AEG Gourmet Collection can be safely washed in your dishwasher.
Perfect Cover
The stainless steel covers on the AEG Gourmet Collection create a seal on the pot, preventing evaporation of natural moisture from ingredients.
Stack one-by-one
The AEG Gourmet Collection cookware range is perfectly stackable to optimise space in your kitchen.
Key features list
High quality 18/10 stainless steel construction that is hygienic, non-reactive, corrosion resistant and easy to clean
Ergonomic double short handles for easy grip and lift
Specifications
Key Specification
Product Relates to:
Dishwasher
Accessory Other Features:
Quick & easy installation, Stainless steel
Material:
3 Ply Stainless Steel
Specifications
Material

3 Ply Stainless Steel
Reviews
Thank you Maddie at Harvey Norman Rothwell for suggesting to go AEG on all your appliances Loving the ComforLift and the program light on the floor, no more opening the door
Thank you for submitting a review! Your review is being moderated and may take up to a few days to appear.
Your review was submitted!
Register
Register your appliance today to stay updated on exclusive offers, services and safety notices.
FAQs
Our Frequently Asked Questions are here to help you know all you need to about the use, maintenance and care of your AEG appliances.
Support
Having trouble with your appliance? Looking for a manual? Head to our support page we are here to help.