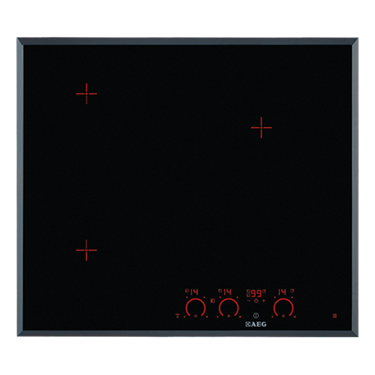 60cm Pure 3 OptiZone induction cooktop
60cm Pure 3 OptiZone induction cooktop with bridging technology and DirekTouch controls
Superior flexibility
The OptiZone induction cooktops are developed with cooking zones which detect pan presence and location and are not restricted to traditional circular zones. This allows for multiple pots of various sizes to be placed within a cooking zone, provided they come into contact with the induction crosshairs.
The ultimate in cooking flexibility
The Bridge function allows you to connect two cooking zones to fit large pots or long pans. Sharing the same temperature and time setting, the linked zones are ideal when youre experimenting with a plancha or fish kettle
DirekTouch™ system
Gives you instant access to the hobs controls and immediate control to select the precise level you need. All at the touch of a finger.
Blends seamlessly into kitchen surrounds
The unique pure black surface and bevelled edges align perfectly with every kitchen style. When the hob is switched off, the ceramic glass surface is completely black. While powered, the surface illuminates to reveal red LED backlit controls and the OptiZone cooking surfaces.
AutoMax
Our AutoMax cooking function provides fantastic automatic zone control. After you have selected the AutoMax function, it will bring the zone up to the boil and will then reduce it to your pre-selected power level for the remainder of the cooking time.
Extra efficient use of residual heat
By monitoring each heat zone as it cools, the OptiHeat control helps you make the most efficient use of residual heat. The OptiHeat control advises 3 levels of residual heat - whether the heat zone is still hot enough to cook with, hot enough to keep food warm, or simply hot to touch.
Stop + Go
The Stop+Go function gives you even greater control while cooking. When you suddenly need to interrupt your cooking, simply activate Stop+Go, and the function will switch all of the active zones to keep warm. When you are ready, touch the Stop+Go button again and all the zones return to their previous settings.
PowerBooster
Function for preparations requiring intense and fast heat-up.
Keep in control of your cooking
Timing is everything - especially where cooking is concerned. With the CountUp timer, you can monitor the cooking process even more closely. The timer starts at zero and keeps counting until you stop or reset it, so you know exactly how long each stage of the cooking process is taking.
Oko Timer
The Oko Timer is an intelligent way for you to use your resources more efficiently. When you pre-set the cooking time on the cooktop, the timer works out precisely when to switch off in order to finish cooking the dish using the cooktops residual heat. The result? The same high quality food to help lower energy bills.
Function Control lock
Controls can be locked for safety to prevent unwanted use of the cooktop, or locked while in use to prevent changes to the cooking selection.
Induction Technology
Induction cooktops offer maximum safety, automatic pot recognition ensures even if the hob is accidentally switched on, it will not heat up unless the wok is placed on the cooking zone. Induction cooktops are extremely easy to keep clean, the smooth ceramic surface can be wiped quickly, and spillages don't burn or bake on because the area surrounding the pan stays cool.
Key features list
OptiZone induction cooktop
Stop + Go: to reduce to warm setting if interrupted
Specifications
Key Specification
Cooktop type:
full induction
Colour:
black ceramic glass
Number of cooking zones:
3
PRODUCT PROFILE
Domestic warranty details (yrs)

5

Cooktop type

full induction

Colour

black ceramic glass

Trim finish

bevelled sides only

Removable trim (for cleaning)

No

Wok included designed to fit cooktop

No
Controls
Controls of Cooktops

DirekTouch

Position of controls

front

Functions of Cooktops

stop and go, acoustic signal, automatic switch off, AutoMax automatic heat up, power booster

Indicators/display

fault indicator, 3 level residual heat indicator

Features of Cooktop

safety cut off, overheating protection, electronic timer, minute minder, safety child lock, function lock, sound off, automatic pan sensing

Timer of Cooktop

auto off, countdown, Oko timer, CountUp
ELEMENTS/BURNERS
Number of cooking zones

3

Pot sensors

Yes

Boost function

Yes
ELECTRICAL SPECIFICATIONS
Connected load KW

7.4

Type of connection

hardwired
Left Front Zone
Left front zone

induction

Left front Watts

2300

Left front boost watts

3200

Left front diameter mm

210
Left Rear Zone
Left rear zone

induction

Left rear watts

2300

Left rear diameter mm

210
Right Rear Zone
Right rear zone

induction

Right rear watts

1800

Right rear diameter mm

280
Reviews
* AEG has recently offered their customers a chance to win a reward to encourage them to write a review. It is possible that reviews were written by customers who received such a reward. It is also possible that some reviewers of AEG received free product in exchange for their review.
Thank you Maddie at Harvey Norman Rothwell for suggesting to go AEG on all your appliances Loving the ComforLift and the program light on the floor, no more opening the door
Thank you for submitting a review! Your review is being moderated and may take up to a few days to appear.
Your review was submitted!
Buying Guide
Buying new appliances can be daunting. Our buying guides will help you to put your mind at ease to choose what's right for you.
FAQs
Our Frequently Asked Questions are here to help you know all you need to about the use, maintenance and care of your AEG appliances.
Support
Having trouble with your appliance? Looking for a manual? Head to our support page we are here to help.