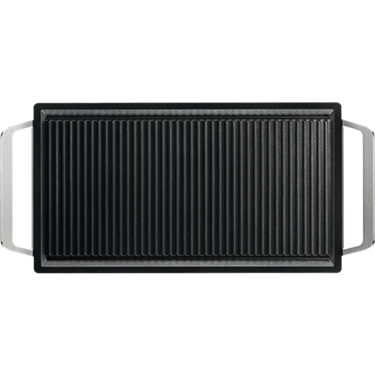 Mastery Collection Plancha Grill
Mastery Collection Plancha Grill. Suitable for all types of hobs, while delivering maximum performance with induction technology.
Developed for various cooking needs
Our professional accessories are developed to complement your cooking and produce a variety of perfect dishes.
Perfectly even cooking
The special multi-layer material optimised for AEG induction hobs ensure heat is spread evenly across the entire cookware surface.
Key features list
Suitable for all types of hobs
Ergonomic double short handles for easy grip and lift
Specifications
Key Specification
Product Relates to:
Dishwasher
Reviews
Thank you Maddie at Harvey Norman Rothwell for suggesting to go AEG on all your appliances Loving the ComforLift and the program light on the floor, no more opening the door
Thank you for submitting a review! Your review is being moderated and may take up to a few days to appear.
Your review was submitted!
Register
Register your appliance today to stay updated on exclusive offers, services and safety notices.
FAQs
Our Frequently Asked Questions are here to help you know all you need to about the use, maintenance and care of your AEG appliances.
Support
Having trouble with your appliance? Looking for a manual? Head to our support page we are here to help.