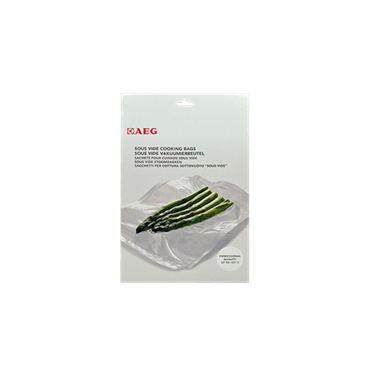 SousVide Vacuum Sealer Bags
SousVide Vacuum Sealer Bags (Set of 50)
Designed specifically for Sous Vide cooking
The professional grade AEG SousVide bags have been specially designed to withstand the temperatures associated with Sous Vide cooking. The bag can withstand up to 120C for 30 minutes whilst cooking.
SousVide in just 4 steps
Prepare, seal, cook and serve dishes with the ultimate control and perfect results every time. Even the most delicate food can be cooked to perfection using low temperature steam cooking from 95C to as low as 50C with 1C adjustability.
Key features list
An Integrated SousVide cooking system
Specifications
Key Specification
Product Relates to:
Air-conditioner
PRODUCT PROFILE
Product Relates to

Air-conditioner
Reviews
Thank you Maddie at Harvey Norman Rothwell for suggesting to go AEG on all your appliances Loving the ComforLift and the program light on the floor, no more opening the door
Thank you for submitting a review! Your review is being moderated and may take up to a few days to appear.
Your review was submitted!
Register
Register your appliance today to stay updated on exclusive offers, services and safety notices.
FAQs
Our Frequently Asked Questions are here to help you know all you need to about the use, maintenance and care of your AEG appliances.
Support
Having trouble with your appliance? Looking for a manual? Head to our support page we are here to help.