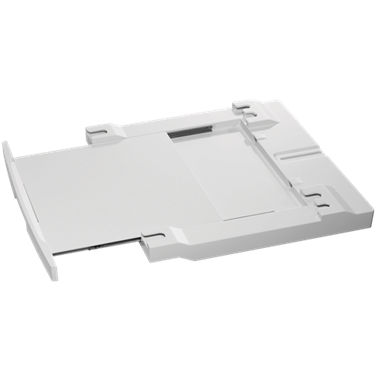 Laundry Stacking Kit
A Stacking Kit specifically designed for AEG Washers and Dryers — featuring a convenient pull-out bench, integrated handle and matching white facade.
Convenient slide-out bench
The convenient slide-out bench allows you to easily load and unload clothes in and out of your dryer without the need for constant bending
Easy-to-grip moulded handle
The moulded integrated handle ensures an easy and stable means of sliding out the bench.
Adjustable rear fastening bracket
Fit the stacker perfectly to your washer and dryer for a stable and secure washing experience.
Matching white facade
The stacker is the same colour as your washer and dryer, creating a stylish and seamless flow between the two machines.
Space maximising design
This stacker was designed specifically for your washer and dryer and allows you to maximise the valuable real estate within your laundry.
Key features list
Convenient slide-out bench
Easy-to-grip moulded handled
Adjustable rear fastening bracket
Specifications
Key Specification
Product Relates to:
Washing Machine, Dryer
DIMENSIONS
Total height (mm)

65

Total width (mm)

605

Total depth (mm)

610
Reviews
Thank you Maddie at Harvey Norman Rothwell for suggesting to go AEG on all your appliances Loving the ComforLift and the program light on the floor, no more opening the door
Thank you for submitting a review! Your review is being moderated and may take up to a few days to appear.
Your review was submitted!
Buying Guide
Buying new appliances can be daunting. Our buying guides will help you to put your mind at ease to choose what's right for you.
FAQs
Our Frequently Asked Questions are here to help you know all you need to about the use, maintenance and care of your AEG appliances.
Support
Having trouble with your appliance? Looking for a manual? Head to our support page we are here to help.