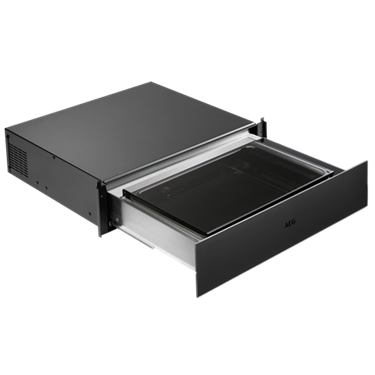 PrecisionVac™ Vacuum Sealer Drawer, matte black
PrecisionVac™ matte black SousVide Vacuum Sealer Drawer with vacuum chamber, LED lighting, fully adjustable extraction and functions including vacuum, marinating and sealing.
PROFESSIONALLY PERFECT RESULTS
The AEG PrecisionVac vacuum sealer drawer brings restaurant standards to home cooking. With the unique chamber vacuum system, you can cook like a professional chef by sealing in the flavour, moisture and nutrients of ingredients until you are ready to cook them to perfection in the oven.
PRESERVE THE VERY BEST IN YOUR FOOD'S TASTE AND TEXTURE
Preserve the moisture, flavour and freshness of ingredients for longer than standard fridge storage through professional-quality vacuum sealing. Prepare, seal and store the ingredients at your leisure, giving you full confidence that freshness and flavour will be perfectly preserved until you are ready to serve, cook or reheat.
ULTIMATE FLAVOUR CONTROL
By cooking food in a vacuum sealed bag using the SousVide method, all the moisture and juices in the food are locked in the bag. The flavour is enhanced as the flavouring ingredients infuse the food, while keeping aromas separate and making cleaning effortless.
MARINATE AND INFUSE
Marinate ingredients in mere minutes, not hours or overnight, with the AEG PrecisionVac vacuum sealer drawer. The marinating and infusion cycle has a preset time of a just eight minutes making it an exceptionally efficient way to enhance meal preparation.
Key features list
The finest ingredients deserve the finest treatment
LED touch controls for easy use
Adjustable vacuum control with up to 99.9% vacuum
Advanced preservation of food for extended freshness
Specifications
Key Specification
Type:
vacuum sealer drawer
DIMENSIONS
Total height (mm)

140

Total width (mm)

540

Total depth (mm)

510
ELECTRICAL CONNECTION
Connected load KW

1.15

Type of connection

Power cord
FUNCTIONS
Number of functions

5

Functions

Max. vacuum, Min. vacuum, Sealing time, Marinating/Infusion, Med. vacuum
SHIPPING
Shipping Volume (m3)

0.181

Shipping Weight (Kg)

42

Pack Dimensions Height (mm)

360

Pack Dimension Width (mm)

800

Pack Dimension Depth (mm)

630
Reviews
* AEG has recently offered their customers a chance to win a reward to encourage them to write a review. It is possible that reviews were written by customers who received such a reward. It is also possible that some reviewers of AEG received free product in exchange for their review.
Thank you Maddie at Harvey Norman Rothwell for suggesting to go AEG on all your appliances Loving the ComforLift and the program light on the floor, no more opening the door
Thank you for submitting a review! Your review is being moderated and may take up to a few days to appear.
Your review was submitted!
Complete your Cooking range
Register
Register your appliance today to stay updated on exclusive offers, services and safety notices.
FAQs
Our Frequently Asked Questions are here to help you know all you need to about the use, maintenance and care of your AEG appliances.
Support
Having trouble with your appliance? Looking for a manual? Head to our support page we are here to help.