The at-home Australian culinary scene has come a long way from those single-temperature adjusting electric frying pans, once ubiquitous on Australian kitchen benchtops.
Answering the demands of a new generation of forward-thinking cooks, who are combining their passion for food with their appreciation of innovation, is AEG.
As the appliance brand for professional amateurs, we have a heritage of innovation dating back to Berlin in 1887.
Celebrated chef, culinary director at Melbourne's newly opened Ritz-Carlton and AEG ambassador Mark Best knows it. Best says innovations that were once reserved for restaurants and hatted chefs are now available, with great acclaim, in home kitchens.
"AEG kitchen appliances offer techniques like sous vide and precision steam so that Australians can have the opportunity to cook like a professional, in their own home kitchen," Best says.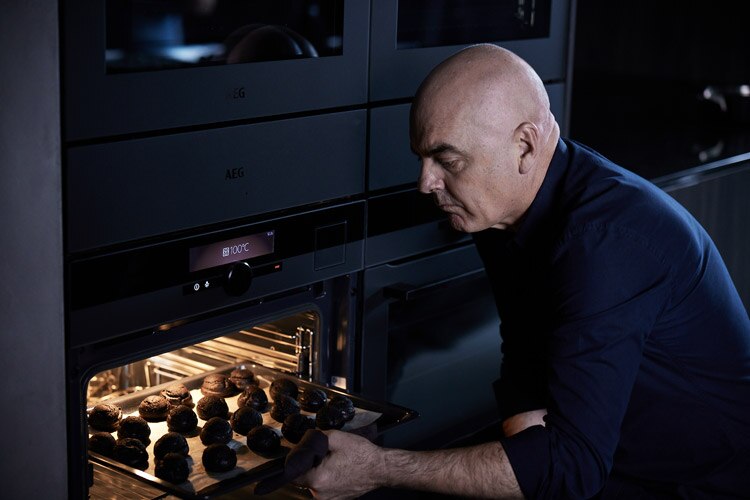 With a rich history of challenging the expected of what a home kitchen can deliver, AEG brought the world the first fully electronic oven almost 50 years ago. We've also been crafting and manufacturing induction cookers for 35 years, now considered the gold standard of home cooktops that rely on the invisible magic of agitating magnetic particles to cook dinner. And eight years ago we launched the country's first domestic sous vide drawer, giving Australians the chance to enjoy gentle cooking for maximum enjoyment at home.
It's this history of innovation that makes AEG the trusted appliance partner of cooks wanting to create a restaurant-quality experience right at home. Find out more about how AEG appliances provide the flexibility to prepare food in the best possible way.
AEG's five culinary innovations

1. The innovation: steam

Our AEG SteamPro Oven with Steamify offers a programmable steam injection, providing the precise amount of steam at the exact moment needed for steaming, grilling, baking or roasting. Think crusty yet fluffy bread and succulent meats. Steam also speeds up cooking times.
2. The innovation: sous vide

The AEG sous vide drawer known as the PrecisionVac vacuum sealer drawer, gently cooks through a vacuum chamber. The technology optimises the infusion of marinades and speeds up the process of preservation. It offers the ultimate infusion of flavour, juices and moisture.
3. The innovation: induction

For the uninitiated, induction cooktops are powered by an electromagnetic field that turns your saucepan into the heating element. Unlike gas, there is no flame and no knobs to fiddle with. It adjusts temperature quickly (as hard as that is to believe) and has a more even spread of heat. Our AEG induction cooktops are incredibly responsive and offer precise control in the kitchen, now offering TotalFlex flexibility.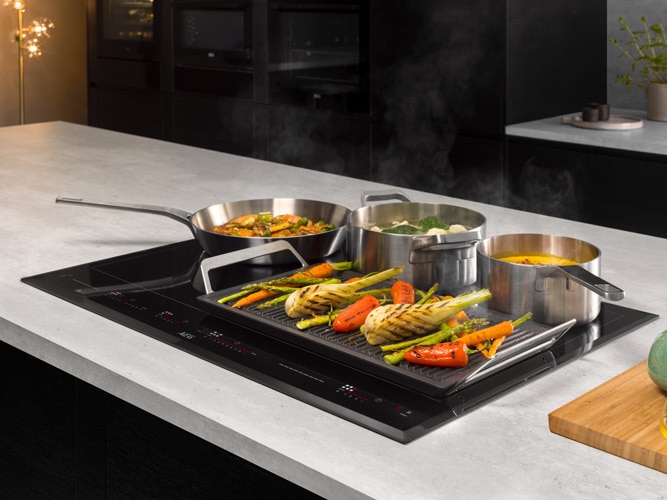 4. The innovation: accessories

With AEG cooking products you can bring professional cooking standards into your home. Our gourmet cookware and accessories are preferred by chef Mark Best. Think our steel 5-ply multi layered roasting dish with lid, constructed to the highest quality. Or our gourmet saucepan collection, offering 3l capacity with internal integrated scale for exact and easy measurement of liquids. See our range.
5. The innovation: First Klasse Kare

We believe in intelligent technology and exceptional performance, helping you to take anything you do at home to the next level, every day. Part of this is our promise for First Klass Kare. Think of this like an appliance concierge. Our dedicated AEG First Klasse Care Team is ready to ensure your experience with AEG is nothing short of exceptional. Contact us for delivery enquiries, installation details, product features, service updates and even product dimensions. Find out more.
THERE IS MORE TO DISCOVER