Why the rest of your wardrobe needs 'the jeans approach'
There might be one good thing to come out of the recent COVID lockdowns: better laundry habits for Australians. Even for laundry addicts who get inordinate pleasure out of an empty washing basket, COVID saw many of us wearing the same items for days on end, rather than religiously washing them after each wear – much like jeans.
Turns out this 'jeans approach' where you wear more times, than you wash, could benefit the rest of our wardrobe, with clothing requiring less laundering than we think. A 2017 Fashion Revolution report found 25% of the carbon footprint of a garment comes from the way we care for it. On top of that, 90% of our clothing is thrown away long before it needs to be, due to our culture of 'fast fashion' and outdated laundry habits
AEG also estimates 90% of clothes washed aren't actually dirty enough to be thrown in the laundry basket. This wash-less philosophy is as much about sustainability, as it is convenience – and confidence in fabric care.
"AEG provides incredible gentleness and superb washing results using minimal energy. Our washing machines keep clothes feeling like new – even those one-of-a-kind pieces that are more than just fabric, while our programs offer innovative alternatives to traditional washing" says AEG Marketing Director Richelle Barker.
Here's our fabric care guide to bringing your laundry habits into the new age.
White shirt
The steam refresh program enables you to refresh your garments without washing with detergent and water. This ensures less wear and tear on fibres, so they can maintain their look and textures for longer. That means whiter shirts, with cleaner lines and less need for ironing. See our 10kg 9000 Front Load Washer AutoDose 9kg for more.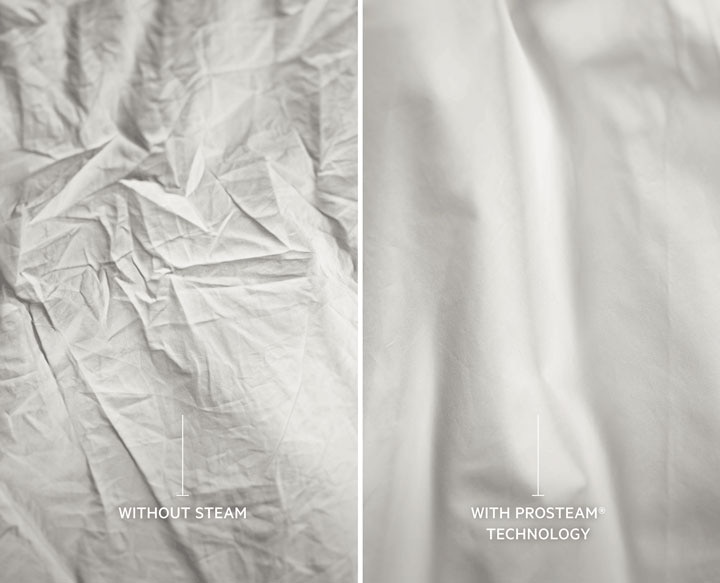 Silk pyjamas
The specialised silk program keeps the silks aloft in the cradle movement of the drum and uses reverse action in a very gentle and efficient way to reduce wrinkles, so you can sleep easy knowing your garments are cared for.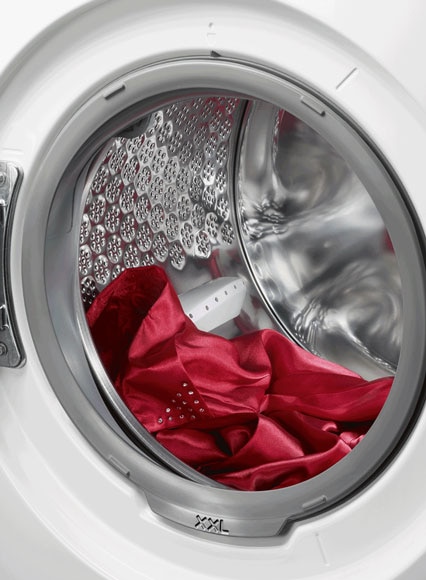 Wool jumper
Wool is naturally breathable and moisture-wicking, which means that when you sweat the perspiration evaporates from your skin into the air, rather than getting trapped inside the fabric, reducing the need for regular washing. When you do wash though, the Woolmark Green certification gives you confidence for those handwash-only wools. As Peter Ackroyd of The Woolmark Company says, "AEG gives consumers the confidence to put woollen garments into a machine, which has been lacking for the last 30 to 40 years." See our 8000 series Front Load Washing Machine with Wi-Fi for more.
Black cotton tee
Maintaining the colour, shape and feel of your favourite classic tees often comes down to the detergent dosage. Our AutoDose system with intelligent sensors calculates and dispenses the precise amount of detergent and softener needed, protecting your clothes from early aging that can be caused by overdosing or under dosing. In other words, whites stay bright and coloured garments keep their vitality for longer.
Jeans
How frequently you wash them is often a heated household debate, with some experts saying they can last 3-4 wears, and other suggesting you never wash them. Whatever you do, our advanced OKOMix technology blends detergents and then softeners with water before they enter the drum. This ensures that every thread and fibre is expertly protected, preserving the appearance of your denim.

AEG top 5 fabric care tips
It's always best to follow the instructions on the fabric care label, but in some cases these may be outdated. To help you care for your clothes, we've highlighted our up-to-date advice.
1. Don't over wash
90% of the clothes we wash aren't dirty enough to be thrown in the laundry basket.
2. Lower temperatures
Temperature labels represent the maximum washing temperature, not the recommended one. A lower temperature isn't just gentler on the environment, but on the colours and fibres of your clothes, too.
3. Tend to stains
Clothes with stains should be washed or spot cleaned as soon as possible – this will extend the garment's life, which will be greener in the long run since you won't need to replace the item.
4. Avoid dry cleaning
This chemical heavy process can be hard on your clothes and the environment.
5. Connect your appliance
The AEG Home App is ready and waiting to give you all the best laundry advice, right from your compatible smart device. Just input the details on the app and it can transfer the program solution straight to your connected appliance.
THERE IS MORE TO DISCOVER